Pressure on the NHS is worse now than it was at the peak of the COVID-19 pandemic, a leading doctor has said.
Dr Tim Cooksley, president of the Society for Acute Medicine, said "urgent action" is required to bring the NHS back from the brink.
Speaking to Sky News, he said the National Health Service is under the most pressure it has ever experienced, including difficult winter periods.
"There has never been a greater recognition amongst all staff that our current situation is worse than it has ever been," Dr Tim Cooksley said.
"And I know that people watching this will say, 'well every winter you have doctors on that say that this winter is terrible, that it's normal winter pressures'.
"But there is a complete acceptance from all colleagues now that this is different from all previous winters – and we need urgent action now."
He added: "This situation is much worse than we experienced under the COVID pandemic at its peak.
"And so we need to think carefully about how we can manage this and I think we need some urgent actions."
Sky News understands that at least six hospital trusts are currently dealing with critical incidents, which means they cannot function as usual due to extraordinary pressure.
These critical incidents cover Derbyshire, Nottingham, Dorset, Hampshire and the Isle of Wight, Buckinghamshire and Staffordshire.
And at least 55 NHS trusts have publicly stated they are struggling to cope with the demand for their services.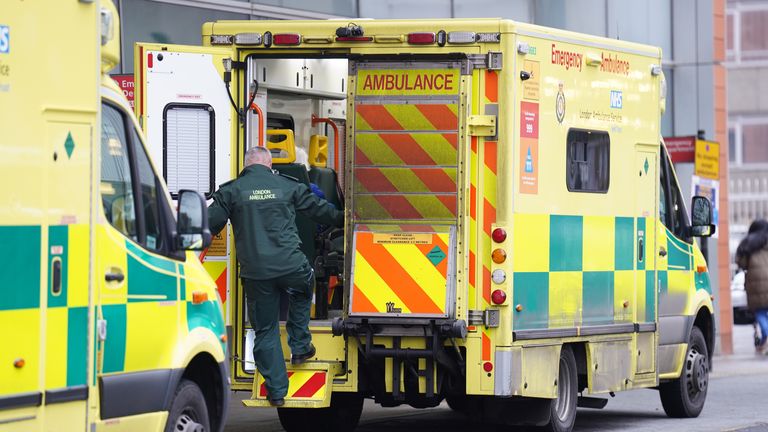 Dr Cooksley's comments come after the president of the Royal College of Emergency Medicine, Dr Adrian Boyle, said on New Year's Day that between 300 and 500 people are dying each week because of delays in emergency care.
He added that a severe flu outbreak, made worse by a lack of immunity in people due to COVID isolation measures, has meant that bed occupancy is at a record level.
Nurses also went on strike over a dispute about pay and conditions for two days in December as did paramedics, and the British Medical Association said it will ballot junior doctors this month.
NHS pressures 'manifesting in different ways'
Meanwhile, another leading health official, Saffron Cordery, said the current pressure on the NHS is "equivalent" to that of the early stage of the pandemic.
Ms Cordery, who is interim chief executive of NHS Providers, said that the pressure is coming from various directions, such as staff shortages, lack of investment, a worn-out workforce and a backlog of operations, as well as a continuation of COVID and flu cases.
"I think we are seeing equivalent levels of pressure, they are just manifesting in different ways," she told PA news agency.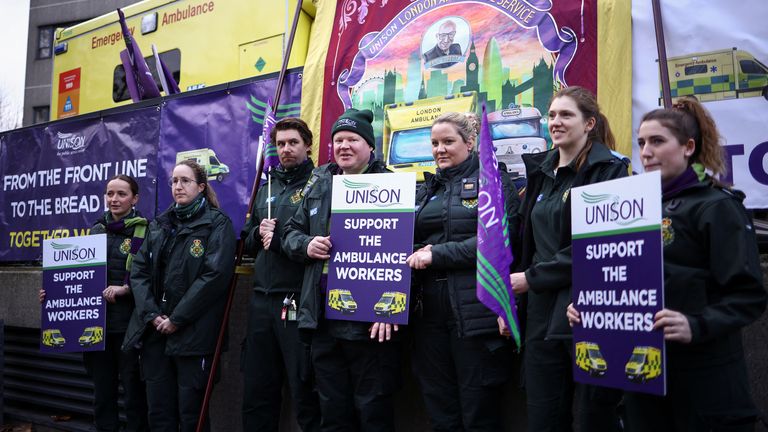 She said the NHS had to deal with "tens of thousands of people coming through hospital doors with a contagious disease" during the pandemic and were forced to give "over nearly every hospital bed to COVID patients".
"What we know now, and I think perhaps it's a more challenging situation, is that we've still got that coming through the door but then we've also got the legacy of COVID, which is a worn-out workforce, we've got even higher levels of staff shortages and vacancies, we're up to 133,000 across the NHS now," Ms Cordery added.
Ms Cordery also said the lack of capital investment in the NHS means it is "much less efficient".
"One of the things we have called for, and we are seeing small steps towards this but I think we need an even greater commitment to it, is a fully costed, fully funded workforce plan for the NHS so that we work out precisely what's needed," she said.
She continued: "If I did have a silver bullet that might solve a significant chunk of this it would be the investment across local government as well as the NHS and the investment in social care, in public health and in prevention because it's the denudation of those services which has had a massive impact on the NHS."